Description

click through to see the certification
Hemplucid Full-Spectrum CBD in Hemp Seed Oil Tincture
Hemplucid's Whole-Plant™ CBD is paired with MCT (Medium Chain Triglycerides) fractionated coconut oil, a virtually odorless, colorless, and rapidly digested carrier oil. MCT's are readily absorbed by the GI tract and are metabolized easily by the liver, where they are reported to encourage the use of fat for energy rather than for storage.
Ingredients: Whole-Plant™ CBD Hemp Extract, Fractionated MCT Oil
250mg, 500mg, 1000,mg, 1,500mg
Hemplucid's MCT Oil uses a medium-chain triglyceride carrier oil to deliver the lasting benefits of our full-spectrum, hemp-derived CBD. Learn more about this amazing product below.
HOW MUCH IS A SERVING? A serving is 1ml or approximately 3/4 of a dropper.
HOW TO USE?
MCT Oil may be used under the tongue or added to cold foods like salads, soups, smoothies, or other recipes. Hemplucid's MCT tincture is extremely effective if ingested sublingually. Place 1ml or your preferred dosage under the tongue, holding it for thirty seconds before swallowing. CBD begins absorbing into the mucous membranes in your mouth and breaks down through your liver and enters the bloodstream quickly and effectively.
THE ENTOURAGE EFFECT
The Entourage Effect is the synergistic benefits of whole-plant, full spectrum CBD that contains a range of additional cannabinoids and terpenes to maximize the potency, effectiveness, and therapeutic scope of CBD.
Hemplucid's lab test results (click on "Certifications" tab above to see the different lab sheets for each strength of this product), displays the wide variety of cannabinoids that are included in our tinctures: CBDV, CBG, CBC, CBM,  and more.
Compare Hemplucid's lab sheet to companies that only sell isolate-based products or "broad spectrum"  or "full spectrum" CBD. You will notice that these products only contain CBD and none of the other cannabinoids that complement CBD and expand the therapeutic scope of its potential benefits. Each additional cannabinoid is known for its own holistic properties. Thus a wide range of cannabinoids makes our tincture more potent and gives it a broader spectrum of healing effects.
The whole-plant difference
Hemplucid utilizes the whole hemp plant, so our products have hundreds of different plant-based compounds, like phytocannabinoids, terpenes, and other phytonutrients. These compounds work in combination with CBD, creating what is called the "Entourage Effect", promoting balance for the mind and body.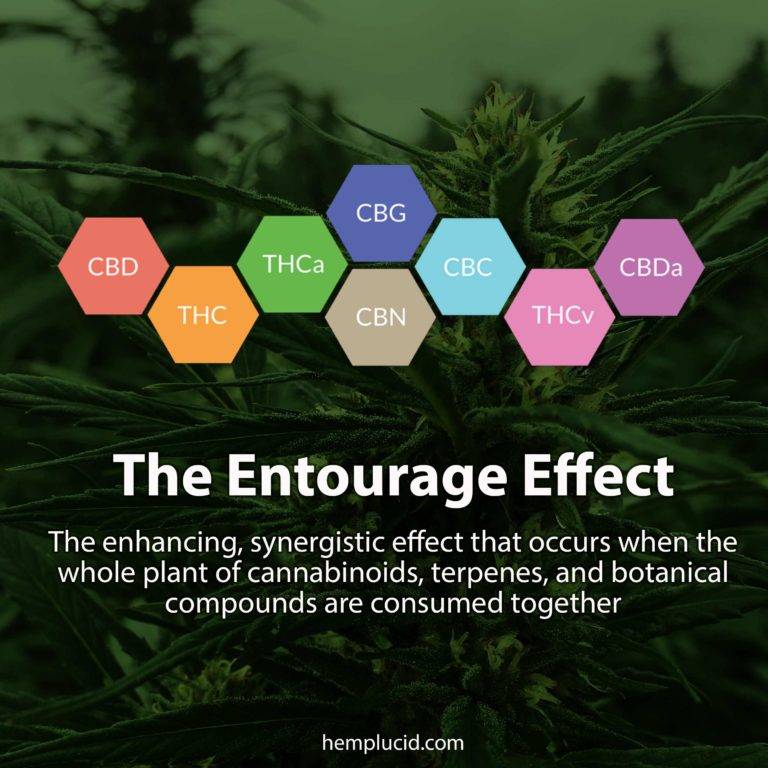 What's inside Hemplucid hemp?
CANNABINOIDS*
Cannabidiol (CBD),
Tetrahydrocannabinol (THC),
Cannabichromene (CBC),
Cannabigerol (CBG),
Cannabigerolic Acid (CBGA),
Cannabicyclol (CBL),
Tetrahydrocannabivarin (THCV),
Cannabidiolic Acid (CBDA),
Cannabidivarin (CBDV),
Cannabidivarinic Acid (CBDVA),
Cannabinol (CBN),
Tetrahydrocannabinolic Acid (THCA),
Tetrahydrocannabivarinic Acid (THCVA)
TERPENES*
B-Caryophyllene, a-Bisabolol, a-Humulene, Guaiol, Isopulegol, Linalool, p-Cymene, cis-Nerolidol
*Actual genetic profile may differ slightly between harvests, strengths, and batches
Please follow and like us: