Description
BALANCE CBD Oil Tincture for Digestive Support, 500mg
CANVIVA PURE CERTIFIED CBD™ Oil is a premium, phytocannabinoid-rich, whole-plant extract made from the highest quality, organically-grown U.S. industrial hemp.
Our food-grade ethanol extraction method is both safe and efficient. It preserves the plant's full spectrum of cannabinoids and terpenes, better supporting overall wellness.
Each batch of our CBD oil is third-party lab tested to ensure that it is the highest quality, most effective CBD oil available. You can find the Lot Number printed on the bottom of each bottle. For test results, click the tab (above) labeled Test Results to see the lab's Certificate of Analysis for each lot.
Made in Minnesota from U.S. grown organic hemp.
BALANCE CBD Oil Tincture with Fenugreek and Thyme
 is specially formulated to help support your digestive system.
Our 500mg CBD oil tincture contains whole-plant, food-grade ethanol extracted organic CBD. Plus, it features the full spectrum of beneficial, naturally occurring cannabinoids and terpenes found in hemp. Moreover, CANVIVA blends our PURE CERTIFIED CBD™ Oil with MCT oil, making it easier to metabolize.
In addition to the anti-inflammatory properties of CBD, we enhance our CANVIVA BALANCE CBD Oil Tincture with 

Fenugreek

 and 

Thyme

 essential oils. These work with the CBD to help promote digestive health. In particular, both of these essential oils may help alleviate digestive problems including loss of appetite, upset stomach, constipation, and inflammation of the stomach (gastritis). 

We do not, however, add artificial colors, sweeteners, or flavorings.
500mg full-spectrum CBD per 1oz/30ml bottle

Approximately 16mg full-spectrum CBD hemp extract per 1ml serving

Blended with MCT oil (medium-chain triglyceride oil extracted from coconut)

Contains <0.3% THC per bottle

Store in a cool, dark place

Keep out of children's reach

This product is not for use in a vaporizer
INGREDIENTS: Natural MCT Oil, Organic Full Spectrum CBD Oil (500mg CBD), Fenugreek EO, Thyme EO. (Contains Coconut.)
---
CANVIVA makes all of our tinctures with PURE CERTIFIED CBD™ Oil derived from U.S. grown organic industrial hemp. Solvent-free, free of pesticides and other impurities, and produced under strict manufacturing practices, each batch is third-party tested so you can feel 100% confident that you are getting the highest quality products available anywhere.
How To Use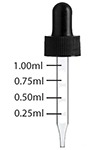 Shake the bottle well before use. The suggested dosage is one (1) full dropper (1.00ml).
It's wise to start slow and low with CBD oil to find your best dosage.
Start with 1/4 or 1/2 dose, once or twice a day for several days. It may take up to two to four hours for you to feel an effect after each dosage.
Decrease or increase dosage as necessary to reach the desired effect.
Use the dropper to place the desired dosage under your tongue, hold there from one to five minutes before swallowing. This allows the CBD to be absorbed into the bloodstream, bypassing the digestive system.
Or add the desired dosage to cold foods like salads, soups, smoothies, or other recipes. Do not use in cooking.
CANVIVA FOCUS CBD Oil Tincture, Cognitive Support, 500mg 

CANVIVA PURE CBD Oil Tincture High Potency, Supports Well-being, 1500mg

CANVIVA SOOTHE CBD Oil Balm, Skin Support, 300mg

CANVIVA RELIEVE CBD Roll-On Pain Gel, Muscle Support, 300mg

CANVIVA PURE PET CBD Oil Tincture, Cats & Dogs, 500mg

CANVIVA SOLUBLE CBD Oil Tincture, Water Soluble, 500mg

CANVIVA REST CBD Oil Tincture, Sleep Support, 500mg

CANVIVA RESTORE CBD Oil Tincture, Muscle Support, 500mg 

CANVIVA PURE MINT CBD Oil Tincture, Essential Mint, 500mg

CANVIVA PURE CBD Oil Tincture, Supports Well-being, 500mg 

CANVIVA CALM CBD Oil Tincture, Stress Support, 500mg
Please follow and like us: