Cannabidiol News
Cannabidiol News Feb 24 2019
The CBD Store selling online Since Dec 20, 2013, opens a hemp only website. Green Globe Hemp
Virginia 
CBS 4 Indianapolis
The brewery partnered with Virginia Beach business Hemp House Wellness to create its "Cannabus Pilsner," brewed with a "full-spectrum hemp flower with naturally occurring CBD,"  
Back Bay's Cannabus Pilsner will be released during its second Living Room Artist's Series, which will feature live music by Anthony Rosano and a pop-up shop by Hemp House Wellness.
---
Natural Products INSIDER
---
New York
"The U.S. Food and Drug Administration has advised that it is unlawful to add cannabidiol (CBD) to food or drink," a spokesman for the city said in a statement to 
CNBC
. "We are currently informing businesses in New York City that may sell food and drink about this regulation, and have implemented an educational period to help them achieve compliance." That period of lenience will gradually roll out through the summer and fall, after which point businesses selling CBD-laced edible products will start incurring fines.
---
Brooklyn 
The Source
Trufant did just that by allowing the church to produce the "Business of Cannabis"  conference in Clinton Hills, on Saturday, February 23rd with leading marijuana advocacy group, Women Grow. This five hour intensive featured the whose who in the Black and Brown cannabis industry. From "seed-to-sale" representatives were available to educate and network with the community during this free event.
---
Wyoming
 News
Washakie County Extension Educator Caitlin Youngquist provided some facts she had researched regarding hemp. She said hemp has not been grown in the United States since 1970 and, in fact, the last commercial field was in 1957. 
The CBD is produced by female flowers and has been used to treat epilepsy and pain. It is a high-value specialty crop, Youngquist said. 
industry research provided to the Congressional Research Service showed that the U.S. imported $688 million in hemp products with 24 percent personal care products, 19 percent food and 19 percent CBD, for the top three uses. 
Former legislator Mike Baker said, "Wyoming has a good reputation for growing seeds for others to grow. If it grows in Wyoming it will grow anywhere." He added that Wyoming's niche could be in developing a seed service and certifying clean seed to other states.
This year the Wyoming Legislature is working on House Bill 171 that provides funding of $120,000 for a full-time position and $315,000 to set up the hemp regulation program including laboratory supplies and equipment, testing, employee training.
---
Maine
Bristol Herald Courier
West Virginia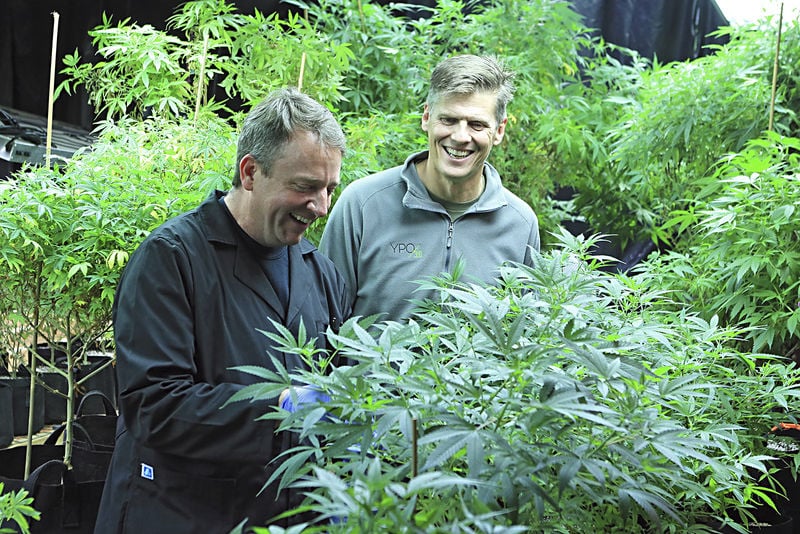 Beckley Register-Herald
In order to ensure Appalachian Extracts' products remain below the allowable THC limit, the extraction process involves grinding up the entire plant to the consistency of coffee, Zobrist explained. The moist mixture is dried in an oven, and the CBD oil is extracted using pressurized carbon dioxide, yielding what Zobrist calls "crude oil." After several additional steps involving heat, straining out the plant material, freezing at a very low temperature and filtering, the oil is poured into mason jars, distilled and finished in a vacuum oven before being bottled and packaged for sale.
---
South Carolina 
Charleston Post Courier
With hemp legal in SC, police change how they test plant material for marijuana
Ninth Circuit Solicitor Scarlett Wilson, who oversees prosecutions in Charleston and Berkeley counties, said she expected a large backlog of hundreds of cases submitted for retesting. 
Her office will review its cases and pursue the ones that involved large amounts of the drug, guns or violence. To avoid overburdening SLED with retesting, she said she foresees the dismissal of straight "user" cases brought during the window when there was no quantitative testing of THC.
---
Tennessee 
NASHVILLE, Tenn. (OSBORNE)  —  A state lawmaker says field tests are needed to help police tell the difference between a Tennessean legally carrying hemp products and those caught in possession of marijuana.
---
Missouri
Columbia Daily Tribune
Please follow and like us: