Cannabidiol News
Cannabidiol News Feb 20 2019
Caregivers of 78 of the 188 children receiving the treatment, or 41.5 percent of participants, reported moderate or significant improvements in their condition after the patients were prescribed a high-
cannabidiol (CBD)
/low-
THC
 dose of cannabis oil produced by
 Tikun Olam Ltd.
, the largest supplier of medical research cannabis in Israel. The cannabis oil goes by the brand name Avidekel.
Avidekel
---
BusinessDen
Cannabis company buys Aurora brewery known for CBD-infused beer
Dad & Dudes Breweria is the only brewery in the country with federal formula approval to brew beer infused with CBD, a non-psychoactive hemp extract. And now it's been acquired by San Diego-based cannabis company Cannabiniers, according to Dad & Dudes owner Mason Hembree.
Why CBD-Rich Extracts in beer?

We'll admit that research on cannabinoids, including the US Government's own patent #6630507, is quite inspirational. However, as a brewer, we are quite fond of the aromatic and antioxidant (shelf life) properties of the plant. By sharing research, we, in no way, believe it makes our beer any safer. Alcohol is a dangerous intoxicant; adding anything to alcohol does not mean a safer/healthier beverage.

 
---
  Blue Star Donuts. Hemp Derived CBD from Guud
Portland Oregon
 ✨New Donut Alert✨ for Portland!! (Available at all stores starting tomorrow! 2/19) This new seasonal flavor is taking our 'Donuts for Grownups' to the next level – with our first-ever CBD donut creation! Introducing the CBD Chocolate Hazelnut Custard. Our 18-hour buttery brioche shell is filled with a thick Valrhona dark chocolate custard that's been infused with rich Oregon Hazelnut extract and locally grown hemp-derived CBD from Güüd. It's then rolled in a slightly crunchy homemade hazelnut powder, resulting in a blissfully chocolatey, nutty goodness that will send you to nirvana!
---
Kenmore  Washington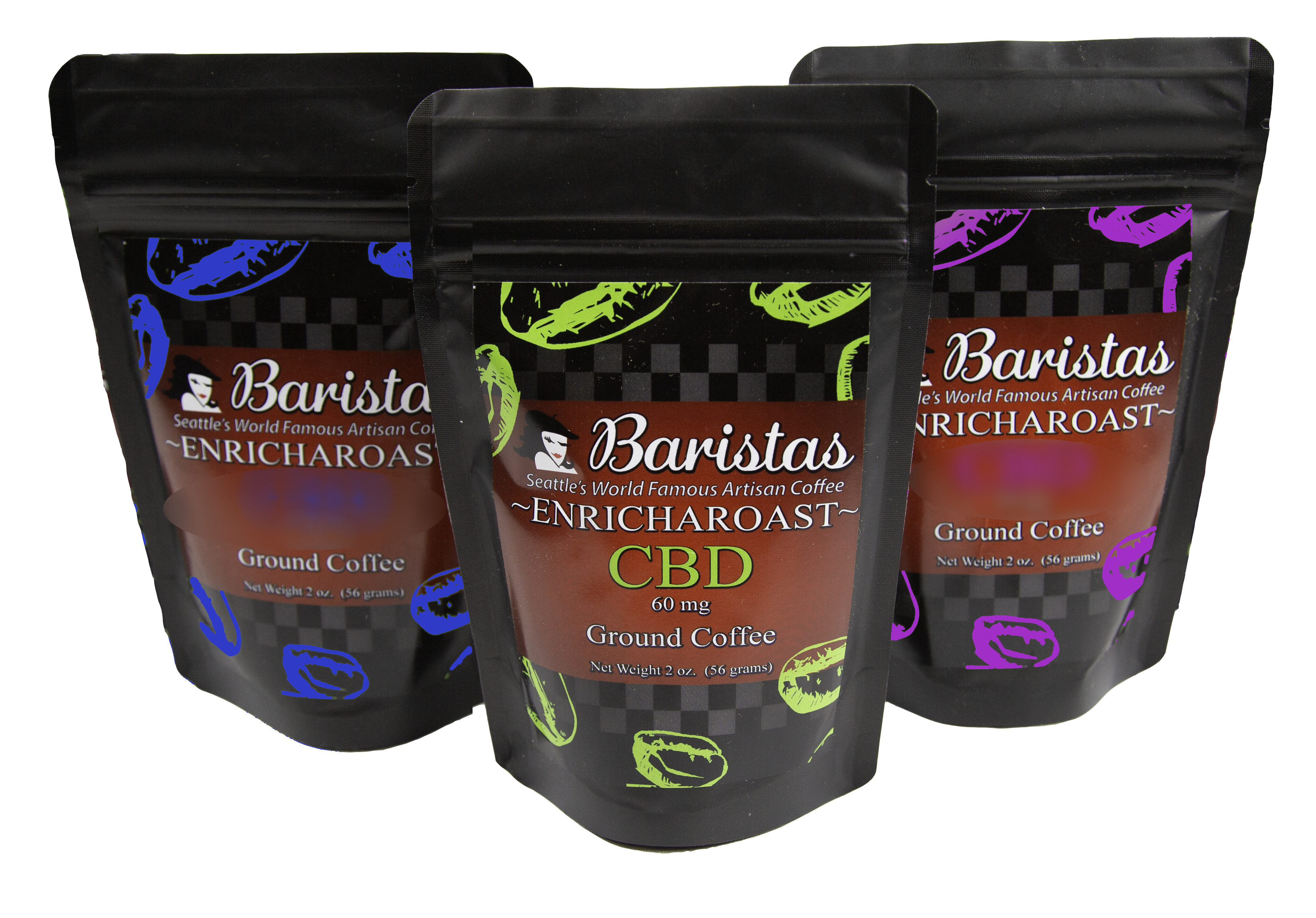 State Of Incorporation NV 
Coffee manufactured by Flower Power Coffee Company in New York. 
On Super Bowl Sunday a special set of ads introducing the Baristas White Coffee and the new Baristas EnrichaRoast CBD Coffee, will run throughout the day in and around the stadium before, during, and after the game, and will include a special offer to send a message to Maroon 5. The spots will be seen on numerous digital displays including mobile devices allowing fans to connect via special Portals.
---
Vancouver, BC, February 19, 2019 – Village Farms International, Inc. ("Village Farms" or the "Company") (TSX:VFF; OTCQX:VFFIF) today announced that its common shares will commence trading on the Nasdaq Capital Market under the symbol "VFF" on Thursday, February 21, 2019. Village Farms' common shares will continue to be listed and trade on the Toronto Stock Exchange (TSX), also under the symbol "VFF".
---
Ohio: According to the state's new medical marijuana law, CBD is strictly prohibited outside of the state's 56 licensed dispensaries. Ohio has not established hemp regulations after the 2018 farm bill.
---
North Carolina
These three letter signs have been popping up across the mountains.
Carolina Hemp Company's four-and-a-half-year journey started as one of now 500 growers for the state's pilot industrial hemp program. Its second shop on Haywood Road sells carefully selected products from coffee with CBD to bags and socks made with hemp fiber to hemp flowers. 
The State Department of Agriculture and Consumer Services is starting with the state's 500 permitted growers and 300 processors, sending letters and taking an "educate before you regulate" approach. "As you go along and learn a lot about this, then we're learning, too. So, if it's represented to be CBD or an active ingredient of CBD, then it's a prohibited act," said Reardon.
---
Marijuana Stocks
Montana
Great Falls Tribune
Sen. Tom Jacobson, D-Great Falls, is sponsoring two hemp-related bills. Senate Bill 176 would allow the Montana Department of Agriculture to create a hemp certification program plan. Senate Bill 177 would eliminate the criminal background check requirement to grow hemp. The Montana Senate passed both bills this week and they now head to the House of Representatives.
---
Stevens Point Journal
---
Please follow and like us: